TEDx UCR Presents: "Change Among Us"
TEDxUCR has 6 incredible speakers lined up from the following professions and backgrounds:
Auri Jackson I Buzzfeed Producer/Environmentalist | aurijackson.com
Dr. Ye Li I Judgement & Decision Making academic | yeli.us
Gulin Cetin I Traveler & Creator, PhD Candidate at UCR | coffeecupsandroses.com
Dr. Jade Sasser I Feminist Scholar of Climate Change, Reproductive Politics, and the Future | jadesasserphd.com
Cate Larsen I Geologist & Science Communicator | groovygeologist.com
Armen Adamjan I Environmental Content Creator | "Creative_Explained"I creativeexplained.com

REGISTRATION STARTED MAY 1ST, 2022.
STAY TUNED VIA SOCIAL MEDIA AND WEBSITE (tedxucr.org).

The theme of TEDxUCR's Spring 2022 talk is Impact. The speakers will be focusing on providing our community with inspiration, methods of conscious consumption, and a sense of collective effervescence. The goal in this event is to infuse the audience with knowledge from varying viewpoints of experts and learn how to change perspectives from macro level (societal issues) to micro level (our own actions) through the lens of making an impact.
For any inquires or concerns, please feel free to email tedxucr001@gmail.com or DM @tedxucriverside on Instagram.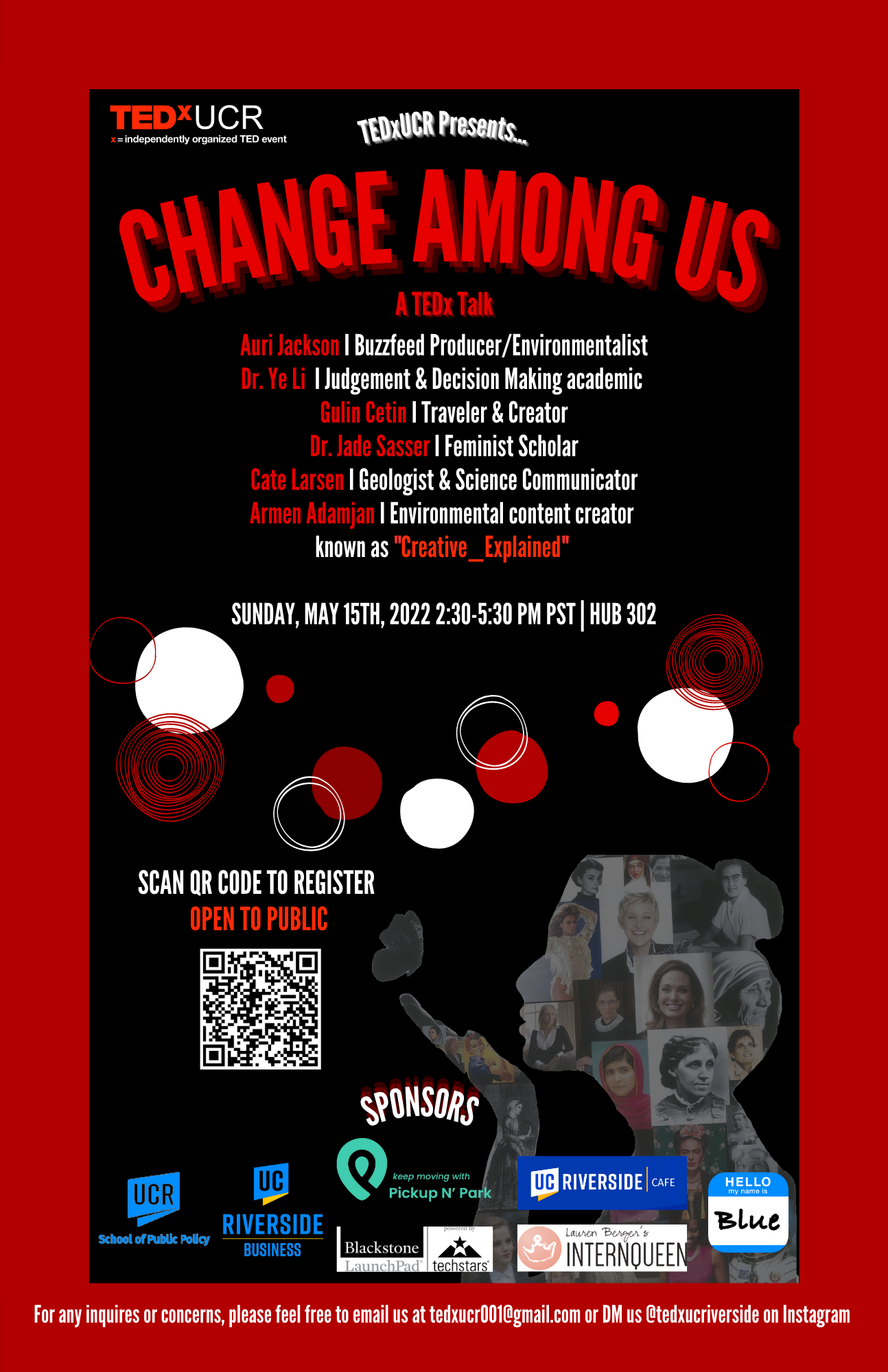 Sunday, May 15 at 2:30pm to 5:30pm
Highlander Union Building, HUB 302 900 University Ave, Riverside, CA 92521